In my prior post, I stated that I achieved my twist out results using Bioinfusion Curl Pomade (in the post, the name is incorrect). Here is my review of this product!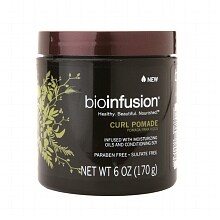 First off let me say that I brought this product when it was on sale at Walgreen's for $4.99. For that price you get 6oz, and a little bit of this stuff goes along way. I actually gave my friend some of this for her daughters hair and I havn't made a dent in this stuff. Oh wait, lets get to the technical stuff first. As per the Walgreens
website
:
Healthy. Beautiful. Nourished.
This pomade contains moisturizing oils to condition your curls. Protective beeswax makes hair pliable and creates strong styles.
With soy
Safe for color treated hair
Paraben and sulfate free
This product is not tested on animals
100% satisfaction guaranteed
After cleansing and conditioning hair with BioInfusion Curl Nourishment products, dry hair. Emulsify a small dab of product in your hands to warm it. Apply pomade evenly throughout dry hair before styling. Mold hair into desired look.

I used this product on damp, not wet hair, layered with shea butter and castor oil. For the record, I have not tried any other products from this lineI only used a small amount, mainly on the ends of my hair, and twisted. The smell of this product is a little strong, but once it dries, you can barely smell it.
The pros of this product is the price. Even without the sale, its $7.99 regular price. Another thing is soft hold. Any of my 4a/4b/4c ladies out there if you have frizz and no definition, you need to give this a try. It gives you just the right amout of contol and hold. Oh, its moisturizing.
Now on to the cons. Smell. If you are sensitive to smells, this one isn't for you. Also, the ingredents. I'm no professional about this, but its not a natural product. The packaging says no parabens or sulfates, but everything else...I couldn't tell you what's in it.
Overall Rating: 4 out of 5 stars
This is a good product to have on hand. Its affordable and it will last a long time with regular use. I think that for any natural out there its worth a try. And like I said if you are looking for a little more hold then give this a try.